Member News
***  May  12  2022  ***   ++++++++++++++++++++++++++++++++++++++++++++++++++++++++++++++++++
Notice !!  All of the annual RCWA renewal notices have been mailed for at least two weeks now.   If you have not received your renewal notice, send an e-mail to rcwarange@gmail.com ASAP with a message title "Missing Renewal Notice" and include your current name and mailing address.  You must include your mailing address so we can make sure our records are correct before sending you a new renewal notice.  Remember the deadline is June 30 so do not forget - late fee is now $100.  We are starting to mail out the new member badges for those that got their payment in early.  
***  April  23  2022  ***   ++++++++++++++++++++++++++++++++++++++++++++++++++++++++++++++++++
Please note the new schedule for the RCWA Board/Member meetings:
The 2022
Board/Me
mber
meetings are currently held quarterly on the final Tuesday of March (29th), June (28th), September (27th) and November (29th).  The meetings will occur at 7:00pm with a meal available ($8).
***  April  19  2022  ***   ++++++++++++++++++++++++++++++++++++++++++++++++++++++++++++++++++
The RCWA renewal notices are being sent out this week. They should all be mailed by Saturday, April 23.  
If you have not received you notice by the second week of May you need to contact the club Secretary and let him know.  When you receive your renewal notice, please send it back in so their is no delay in you being able to use the range.  Remember - t
he late fee has increased to $100 and will be applied to any renewal not post marked by June 30.
***  April  18  2022  ***   ++++++++++++++++++++++++++++++++++++++++++++++++++++++++++++++++++
The skeet and trap fields are currently a cash only payment method.  A new Briley token machine for purchasing tokens for each round you wish to shoot has finally arrived and been installed .  It has been installed in the Hub House for the skeet and trap fields.  The new Briley token machine accepts $5, $10, and $20 bills.
***  March  15  2022  ***   ++++++++++++++++++++++++++++++++++++++++++++++++++++++++++++++++++
Reminder:  There will be a Board/Member meeting for March.   Meeting will be in the RCWA clubhouse on 29 March (Tuesday) at 7:00pm.  A a meal will be available ($8).
***  Feb  21  2022  ***   +++++++++++++++++++++++++++++++++++++++++++++++++++++++++++++++++++++
 Short Notice !!   The RCWA Rifle Range will be closed Tuesday (2/22/2022) afternoon for some maintenance work.   Removing the old storage container from behind the 100 yard berm.
***  Feb  16  2022  ***   +++++++++++++++++++++++++++++++++++++++++++++++++++++++++++++++++++++
New RCWA Shotgun Fields Operational Procedures
The operation of the RCWA shotgun fields has been leased out to a third party on an annual calendar year basis for the last 30+ years.   As a result of reduced shotgun field use ( primarily due to very short supplies and increased costs of ammo and reloading supplies ), the RCWA Board had no one interested in submitting a lease proposal for the RCWA shotgun field operation for 2022.
A core group of RCWA members, who want the excellent RCWA shotgun facilities to remain operational, have volunteered to develop a process to manage the shotgun field operation as an RCWA member run process.  This experienced shotgun group is known as the Shotgun Range Officers (SRO).  An RCWA Shotgun Fields Operations document has been produced and agreed upon by both the RCWA Board and the SRO group.  This will result in a completely new way of using the RCWA shotgun facilities for all RCWA members and their guests going forward. 
The following is a brief outline of the major changes:
The operation of the RCWA shotgun facilities by the SRO group will report directly to the RCWA Board in a manner similar to other RCWA shooting venues.

The RCWA range shotgun facilities will no longer be open to the public. Non-members of RCWA will have to be a guest of an RCWA member going forward unless they are shooting in an RCWA approved open event/match.  The RCWA range gate will no longer be open to the general public for access to the RCWA shotgun facilities.

There will basically be 4 levels of users of the RCWA shotgun facilities.

The Shotgun Range Officers (SRO) group. These are experienced RCWA member shotgun shooters that received detailed training on running the RCWA shotgun facilities per the approved RCWA Shotgun Fields Operations document.  The SRO group certifies RCWA members to become Certified Members (CM) using an SRO developed RCWA Shotgun Fields Orientation Manual in their orientation process.  The SRO group members are your points of contact if you have questions about or problems with the RCWA shotgun field operations.  Contact info is on the RCWA web site under the Shotgun Fields tab.

Certified Members (CM). These are RCWA members who have successfully completed the SRO developed CM training program on how to use the RCWA shotgun facilities.  Contact the SRO members (check the Shotgun Fields tab on the RCWA web site) to discuss the CM orientation process.

RCWA members (not a CM). RCWA members that are not CMs must shoot as a guest of an SRO or CM.

Guest (not an RCWA member). Not a member of RCWA and must shoot as a guest of an SRO or CM.

There will no longer be regularly scheduled days nor hours of operation for the RCWA shotgun fields. SROs and CMs (and their guests) can use the RCWA shotgun fields during any hours the RCWA range is open for member use.

RCWA members will need to contact the SRO members identified on the Shotgun Fields tab on the RCWA web site to discuss the options for becoming SRO or CM certified or the options to shoot as a guest. If you are new to skeet and/or trap shooting, the SRO group will work with you on learning the proper skeet/trap rules and etiquette as part of the orientation process.

The RCWA 5 Stand facilities are closed until further notice. New procedures and possible automation need to be developed to work in this new format.
This is a high level overview of the changes coming to the RCWA shotgun facilities.  The RCWA web site ( www.rcwa.club ) will include the evolving finer details of this change in the shotgun field operations as they become available and evolve.  
***  Feb  11  2022  ***   ++++++++++++++++++++++++++++++++++++++++++++++++++++++++++++++++++++++++++++++
RCWA Members Update
There are a couple of recent RCWA changes that might be of interest to the RCWA members.
First, RCWA members may now bring up to 3 guests to the range. The rules for guests are still the same - the member is responsible for the guests while at the range and the guests must remain with the member while at the range.
Second, the RCWA range membership limit was recently raised from around 1500 members to 2000 members. The membership process hopes to work down the backlog of membership applications over 2022. Range member applications are processed in batches. Each batch requires a lot of paperwork that must be prepared for presentation to the RCWA Board. Once the RCWA Board accepts new applicants, the new members are scheduled for a range orientation class. This process then is repeated for the next batch. It takes time - it is an all volunteer group handling the RCWA range process.
***  Feb  1  2022  ***   ++++++++++++++++++++++++++++++++++++++++++++++++++++++++++++++++++++++++++++++
New Storage Shed on Barn
RCWA has recently completed adding a new equipment shed to the large barn building.  Larger range maintenance equipment items that needed to be out of the weather but not necessarily inside the barn were filling up the space in the barn and increasingly making it harder to maneuver around in the barn.  This will make much more efficient use of the barn space for items that need to be inside and secured.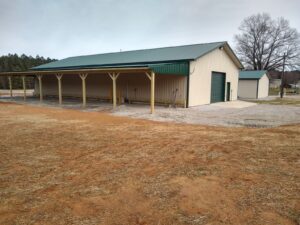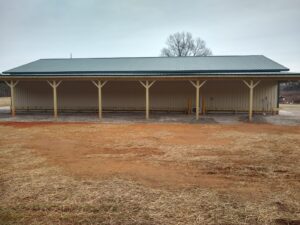 ***  Jan  18  2022  ***   +++++++++++++++++++++++++++++++++++++++++++++++++++++++++++++++++++++++++++++
Joe Earley Estate Auction of Guns, Ammo and Shooting Equipment.
When and where:
Saturday Jan. 22nd, 2022 at 10:00am
At 1935 Jake Alexander Blvd Salisbury, NC 28147
Westend Plaza ( old Salisbury Mall in Pennys Bldg )
Details:  https://www.auctionzip.com/Listings/3598314.html?adv=113
***  Jan  3/4  2022  ***   +++++++++++++++++++++++++++++++++++++++++++++++++++++++++++++++++++++++++++++
2022 RCWA Board Elections
Reminder - Tuesday ( 4 Jan. 2022 ) is election day for the 2022 RCWA Board. Each year at this time, 7 of the 14 RCWA Board seats are up for election. Voting will be available from 4pm to 8pm on a drop in basis at the RCWA club house. Votes will be tallied after the poll closes at 8pm. The details on who is running are available on the RCWA web site (
www.rcwa.club
) under the RCWA Board Info tab on the top right of the home screen. We plan on posting the election results later in the evening.
Remember that you must have your red RCWA membership badge with you to vote - no badge, no vote !
Election results will be posted Tuesday night on the RCWA Board Info page - tab at top right of this page.
***  Dec  22  2021  ***   ++++++++++++++++++++++++++++++++++++++++++++++++++++++++++++++++++++++++++++++
2021 Major RCWA Board Activities
The RCWA Board had a very busy year in 2021.  Take a look of the major activities.
The Major 2021 RCWA Board Activities
***  Nov 16  2021  ***   ++++++++++++++++++++++++++++++++++++++++++++++++++++++++++++++++++++++++++++++
Rifle Range Closure for Maintenance 
The entire Rifle Range will be closed on Nov. 21 thru Nov. 23  ( and possibly Nov. 28 & 29 if needed) to perform some Rifle Range berm maintenance.  The Rifle Range will remain open for normal uses outside of these dates unless otherwise noted.
This is part of a larger Rifle Range project to open up more space (shooting positions) for the 200 yard part of the range.  This project is going to remove part of the existing 50 yard berm.  The back third of the brown building in front of the 50 yard berm will then be removed and the remaining back part of the brown building will be configured for shooting on the 50 yard range using the existing concrete floors in that building.  The existing 50 yard target facilities will be moved over to square up with the new 50 yard shooting positions on the back side of the brown building.  The Rifle Range firing line warning system will be extended over to the new shooting positions on the back side of the brown building.  The RCWA Board thinks this will provide better utilization of the existing Rifle Range facilities and appreciates everyone's patience as we make these changes during the winter months.
***  Oct 24  2021  ***   ++++++++++++++++++++++++++++++++++++++++++++++++++++++++++++++++++++++++++++++
Utilization Change for Berms A thru L
 Recent Range Utilization Change/Upgrade Clarification - Berms A thru L.   Berms A thru L up next to the Archery Range were originally designated as pistol only with only paper targets allowed.   Berms H thru L were  lengthened some time ago for a bit more flexibility.  Recently new AR 500 steel pistol targets have been added to these 5 longer berms (H thru L).   You can now use the installed steel targets or post your own paper targets in the longer berms (H thru L).
So now berms A thru G remain as originally designated - paper targets only and pistol only.   Berms H thru L have recently had signage changes.  They are now designated as pistol caliber only.   You may shoot pistol and rifle in the longer berms H thru L as long as the rifles are pistol caliber.   No standard ARs or AKs  !!  Anyone caught using any rifles that are not pistol caliber will pay a visit to the RCWA Board for explanation.....     Hope that this provides a bit of clarity on the changes.  It is hoped this will allow a bit more flexibility to the members using these berms.
***  Oct 12  2021  ***   ++++++++++++++++++++++++++++++++++++++++++++++++++++++++++++++++++++++++++++++
Range Refurbishments Activities
Recent Range Refurbishment for range berms 2 thru 13.   Over the past couple of months the Old North State Posse cowboys have been providing some manpower to refurbish tables available for use in these berms.  This included all new tables in the new berms 11 - 13 and refurbishment or replacement of all the small tables in berms 2 thru 10.   RCWA has provided all of the materials for this effort.
Just as a reminder, if you remove any equipment from under the berm shelters while using berms 2 thru 13, you are expected to return that equipment back to the shelters when you finish.   Weather is not kind to the tables if left out.   None of the equipment under the shelters should be used for building shooting scenarios or as target stands.   The bullet holes in some of these tables is not good !  You will be asked to attend a board meeting to explain if found doing this.  Please take care of your range facilities.
8 Sept. 2021
As of Wed. morning 8 Sept. 2021, lightning has knocked out the range gate controller. Looks like we will be a couple days getting a new control board. So if you are going to the range the next few days, remember to carry your #7 padlock key to manually open the front gate in case it is not open.
Update:  As of Thursday morning (9 Sept.) our gate support guy has gotten a loaner board installed while the damaged board is sent off for repair.
22 Aug 2021
Range 1 (Rifle Range) will be closed from 8am thru 12 noon for some range maintenance.   Rim fire activities can use other range facilities.
24 July 2021
Reminder:  There is a Member / Board meeting scheduled for the last Tuesday in July (27 July).  Light meal at 7:00pm and meeting at 7:30pm.   See ya there !
10 July 2021
After the recent annual membership renewal process, it has been noticed that there is some confusion with some members over the range access process.   Each active member should have three range devices for access to and use of the RCWA range.  A detail explaination has been added  to the Membership page of this web site describing those three devices.  The quick version:  1) a member badge with your name on it that is replaced each year with your renewal (this member badge does not operate the range gate);  2) a gray range gate key which is used to get you in and out of the range front gate;  3) a padlock key (with a 7 stamped on it) that is used in case the front electronic gate is not operational (also gives you access to the lake via the lake gate).   Please read the more detailed info on the Membership page for further clarification .....
18 June 2021
June 29 Members Meeting is Cancelled
Due to the fact that only 2 RCWA members showed up for the May Members Meeting and the RCWA Board is busy with the annual membership renewal rush at the end of June, it was decided to hold the next RCWA Members Meeting on July 27.  Hopefully there will be more interest.
16 June 2021
Final RCWA Annual Membership Renewal Notification !!
The annual RCWA membership renewal deadline, June 30, is fast approaching. Two reminders: 1) follow the renewal instructions you have received or your renewal payment will be returned; 2) renewal must be post marked no later than June 30. RCWA range gate access will be removed on July 1 for all that have not renewed their membership. Delinquent memberships can still be renewed by August 1 with a $50 penalty fee. After August 1, any remaining unpaid membership renewals are removed from the RCWA membership list.
25 May 2021
The RCWA range lead remediation work has been completed !
All range facilities should be fully operational again. Thanks for your cooperation. The shotgun fields have been strawed but we intend to wait until early fall to reseed them. We will look at doing this again in 5 to 7 years based on feedback from the firm doing the work.
18 May 2021
RCWA Members Meetings Are Resumming - 25th May !!
The RCWA member meetings will resume on 25 May at 7:00pm in the big barn building.   There will be no food nor official program for this meeting - a chance to catch up on range activities. Might want to throw in a bag chair in case needed.
18 May 2021
RCWA Annual Membership Renewals Reminder !!
The annual RCWA range membership is well under way.  All renewal notices have been sent out and should be in the hands of the members.  Your payment must be postmarked on or prior to 30 June to avoid a late fee.  Please follow the renewal instructions.  New members badges are already in the mail for those early bird renewals.  Start using your new RCWA member badges as soon as you get them !
6 May 2021 - updated 18 May 2021
RCWA Range Lead Remediation Activities
Work began in earnest on the shotgun fields today ( 18 May 2021 ).  Shotgun fields will continue to be open during most of the lead remediation work - just certain houses not being used as they work across the fields.
RCWA periodically brings in a company that removes much of the lead that has accumulated in both the rifle/pistol bays and the shotgun fields.  RECOIL LLC arrived at the RCWA range today (Thursday, May 6th ) with their lead remediation equipment.  They will be at RCWA through the end of May and as a result some range facilities will be out of service while RECOIL LLC is remediating those facilities.  They will start on Friday May 7th working their way through bays 2 through 10 in that order.   They will tentatively start on the shotgun facilities on Thursday May 13th which will take the longest to complete.   So check with shotgun folks on what is operational during this time.  Your patience is appreciated during this process.
29 April 2021
RCWA Annual Membership Renewals !!
The RCWA range membership renewal notices are going in the mail this week.  They are going out in batches as they are prepared.   They should all be in the mail after May 1 weekend.   Keep an eye open for them and if you have not seen your renewal notice by the middle of May, please email the range at rcwarange@gmail.com.   Remember, the payment must be post marked by 30 June or you will incur penalties !
April 2021
RCWA Range Member Workday - 30 October 2021 Saturday
An opportunity to give back to your club and gun range facilities.  Spend the day or whatever time you can spare to help improve the RCWA facilities.  Dress for the weather and bring your own work items - gloves, rakes, shovels and other tools of your choice.  If you have a particular venue you use and would like to work on then let us know.
RANGE LOST AND FOUND
Nothing currently posted.